Learn How to Play Bingo
Bingo has always been a popular game among the very young and old, but thanks to online bingo, the game has spread among gamers of all ages. Whether you're a complete newbie or are just a little rusty on the rules, this page will help get up and going in no time.
Object of the Game
The goal of bingo is to be the first person to complete a 5-space line in any direction on the bingo card. Letter / number combinations are picked at random and announced for all the players to hear. Any time one of those combinations matches with the numbers listed on your card, you can mark that space off.
The first person to mark five consecutive spaces in any direction (horizontally, vertically or diagonally) wins the game. Some bingo games may also specify other winning patterns of marked out squares. A few popular ones include X's, blackout (every square on the card) and four corners. There is an almost endless variety of possible bingo patterns but the ones listed here are the most common.
The Bingo Card
Each player receives a bingo card marked with a grid that consists of letters and numbers. Along the top of the grid, the letters B-I-N-G-O each correspond to a column. Each column consists of five squares, with a number in each square. In total, there are 25 squares on a typical bingo grid.
The square located directly in the middle of the card is considered a free square. At the beginning of each game, you can mark of this square as if its number had been called. Here's an example of an average bingo card: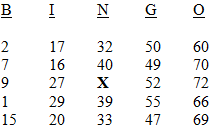 Online Bingo vs. Live Bingo
Live bingo numbers are picked at random from a lottery-style machine that spins a bunch of balls with letter / number combinations. As each ball is picked, the announcer states the result out loud and then posts it up on a board for all to see.
As the numbers are announced, the players look for those numbers on their bingo cards. Any time a number is found on the bingo card, the player may mark it with a special ink pen called a "dauber." This process continues until the first person completes the pattern specified for that particular game.
Online bingo numbers are picked with the help of a random number generator (RNG). Many gambling games use RNGs to create truly random results. As the computer picks these numbers, the players will be notified by sound and via a bingo display on the screen.
Players may either mark off their numbers manually via the mouse or turn on the auto-daub feature. With the help of the auto-daub feature, the players don't have to worry about missing numbers or making mistakes. This also allows online bingo players to play as many cards at once as they wish.